This post is sponsored by Cantina Laredo and Midtown Crossing.  I was compensated for my time, but as always, all opinions are 100% my own.  Trust me, it would be impossible for me to NOT like a tequila/Mexican-themed dinner! 😉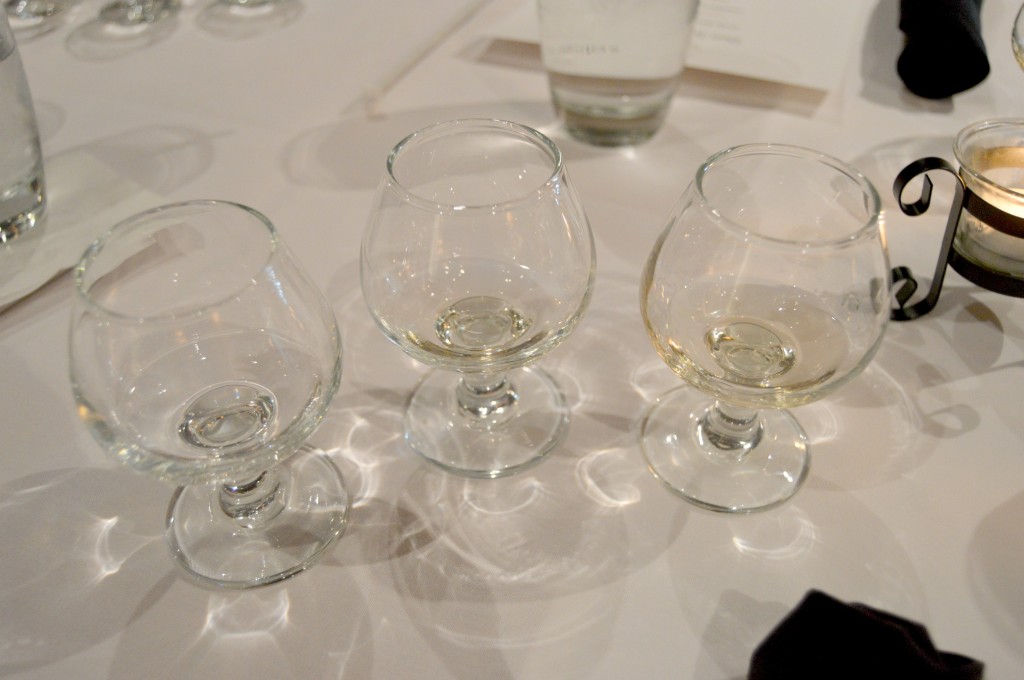 One tequila, two tequila, three tequila…   The correct ending to this phrase would normally be "floor."  But I am not stopping with just three and you do not have to either.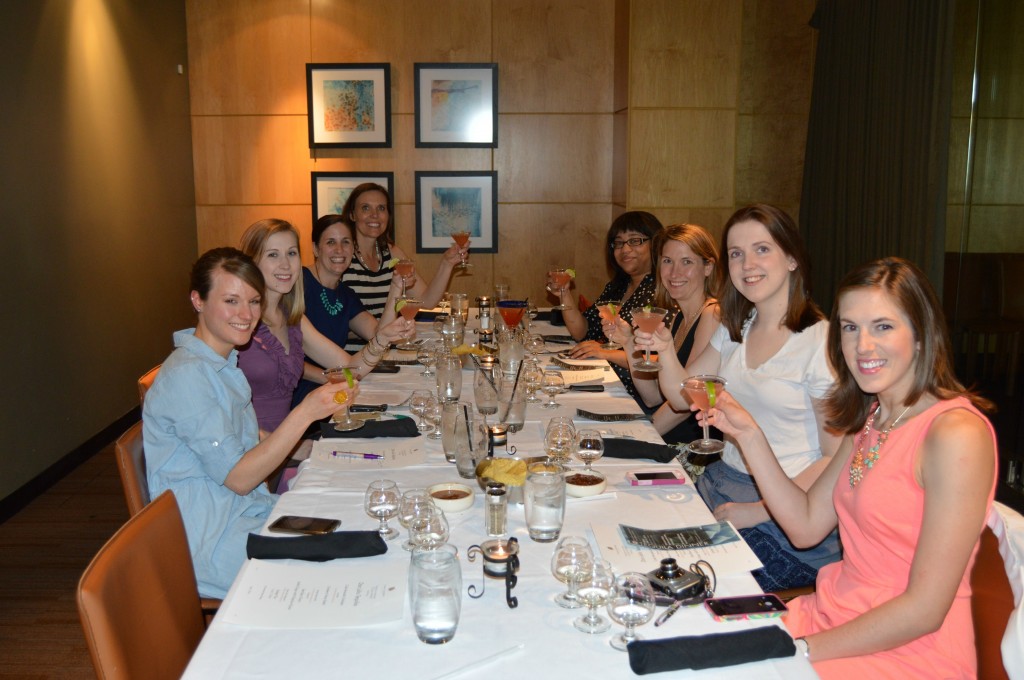 Last Wednesday I met up with several other members of the Omaha Bloggers group for a tequila tasting and dinner at Cantina Laredo in Midtown Crossing.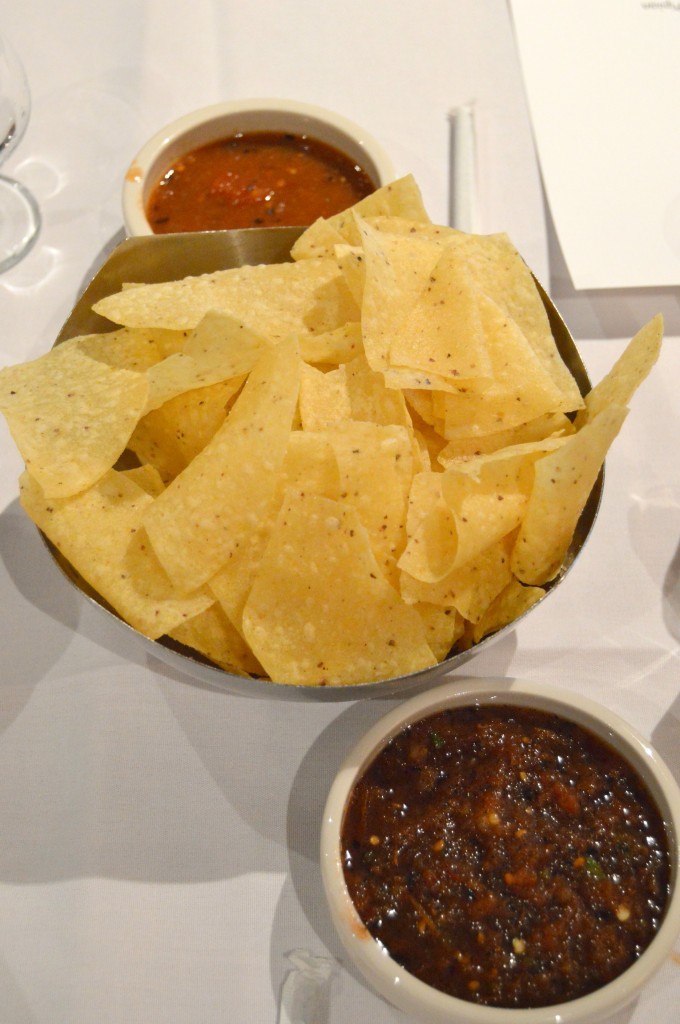 Now it is common knowledge that no Mexican-themed dinner would be complete without chips and salsa.  I happily obliged in eating more than my fair share, which is what I tend to do anytime that they are placed in front of me.  Chips, salsa, and I go way back.  And I am a major fan of Cantina Laredo's chips and salsa.  They bring you two salsas (one spicy, one not-so-spicy) along with their perfectly salted and crispy chips that just so happen to be warm when they arrive at your table.  I have eaten a lot of chips and salsa in my day and can honestly say that Cantina Laredo's are some of the best.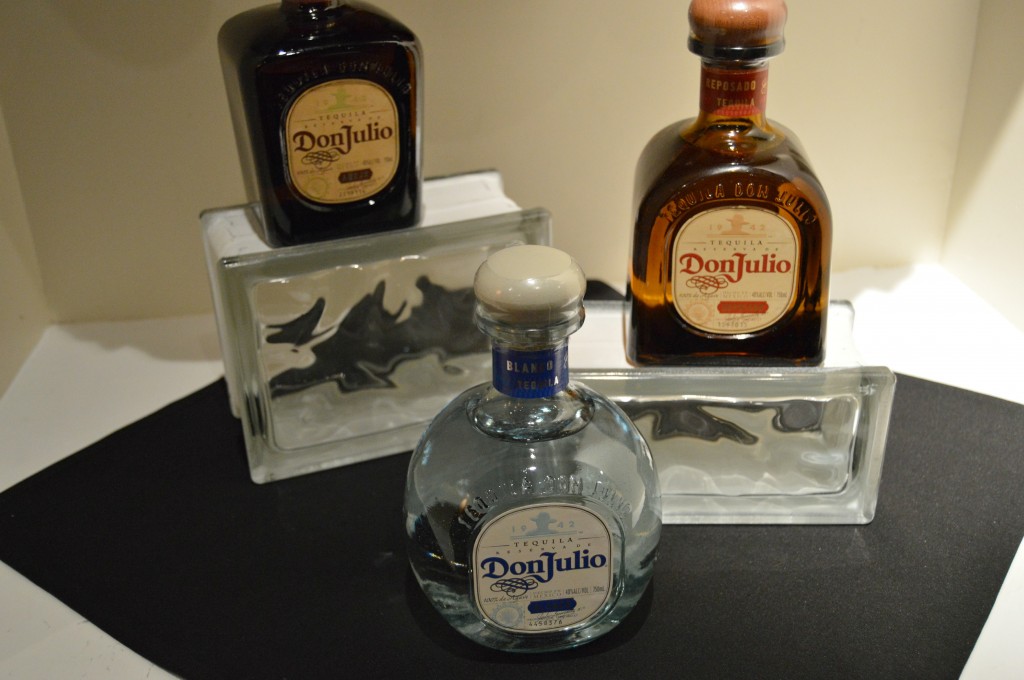 Of course a tequila dinner would not be complete without the star of the show: Don Julio tequila.  We were fortunate enough to receive tasting samples of the Blanco (distilled and not aged), Reposado (aged 8 months in American white-oak barrels), and the Anejo (aged 18 months in American white-oak barrels).  All of the Don Julio tequilas are made with 100% blue agave and tasted fantastic.  I may be slightly biased, though, as I have been a tequila girl ever since my colleges days.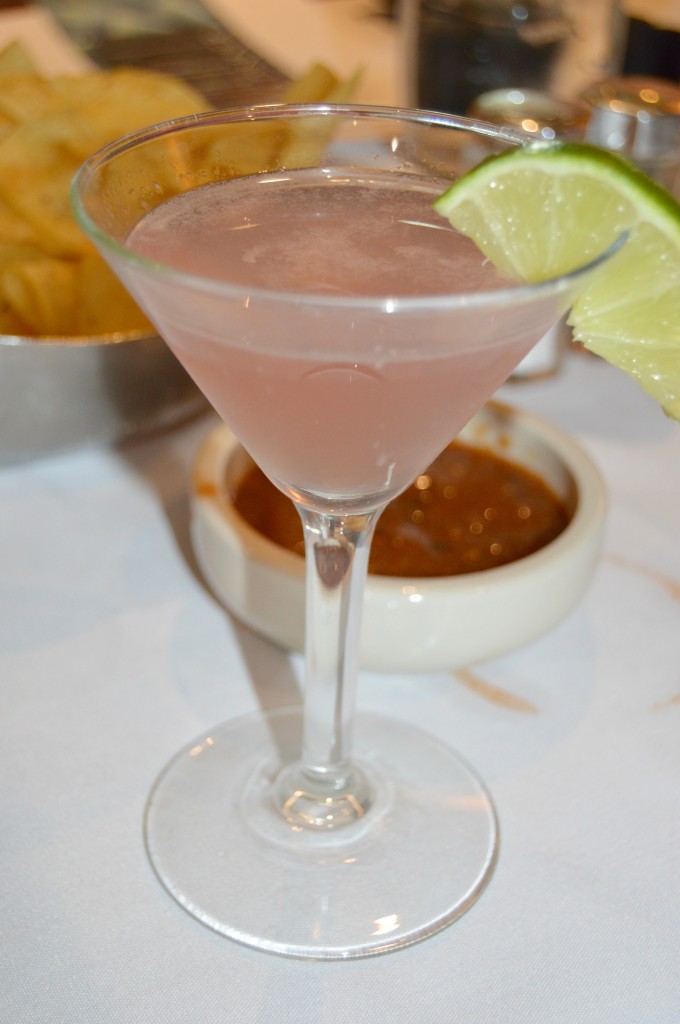 After the tequila tasting, the first course of the meal came out.  Drink #1 was a Cosmolito.  I loved the sweetness of the cranberry juice, simple syrup, and Grand Marnier in this drink, which was a nice compliment to the tequila and lime juice.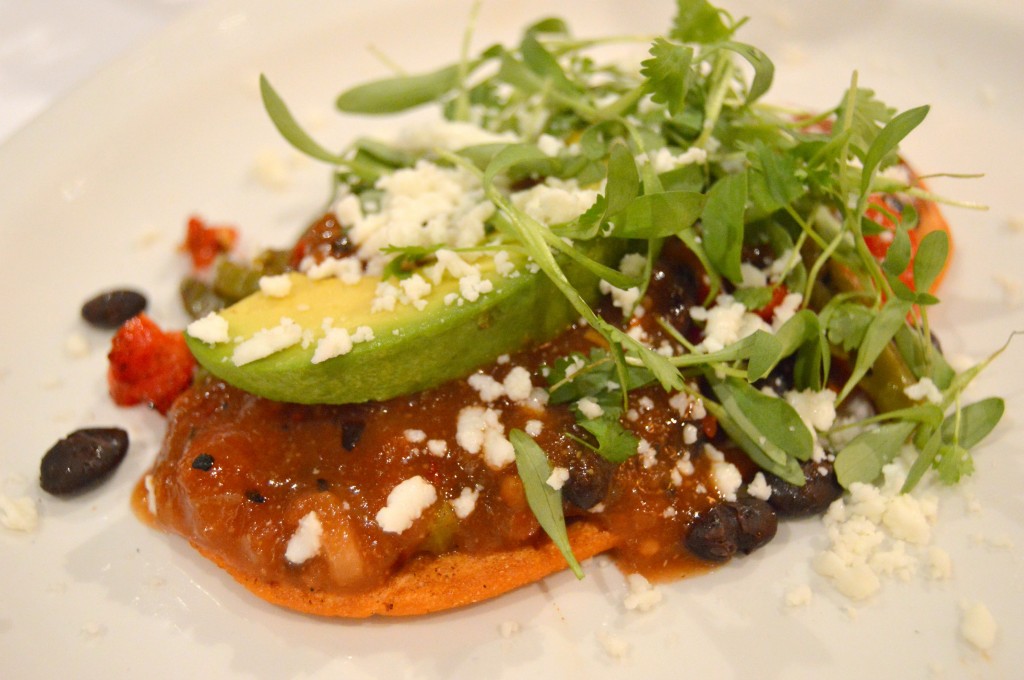 My Cosmolito was paired with a delicious masa corn cake topped with black beans, peppers, cactus (cool, right?), avocado, salsa, queso fresco, and cilantro.  I requested a vegetarian appetizer and was so pleased with what they provided.  My first time eating cactus was a great one and I loved the heat of the salsa paired with the creamy avocado and cheese.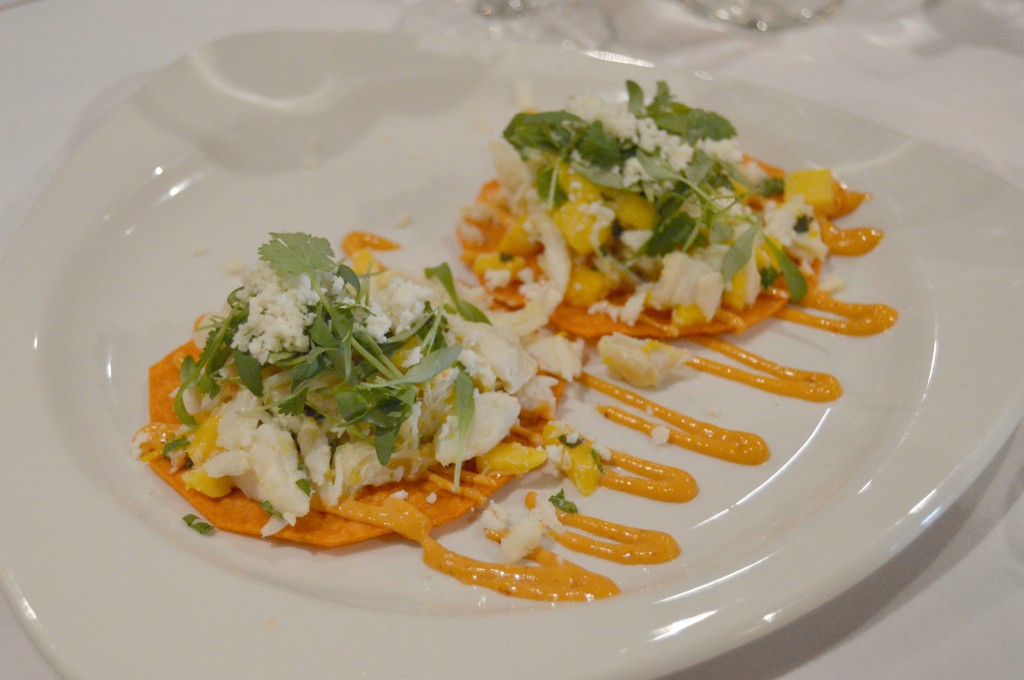 The non-vegetarian appetizer option consisted of two crab avocado chalupas.  The non-vegetarians all seemed to really enjoy this and especially raved about the chipotle aioli.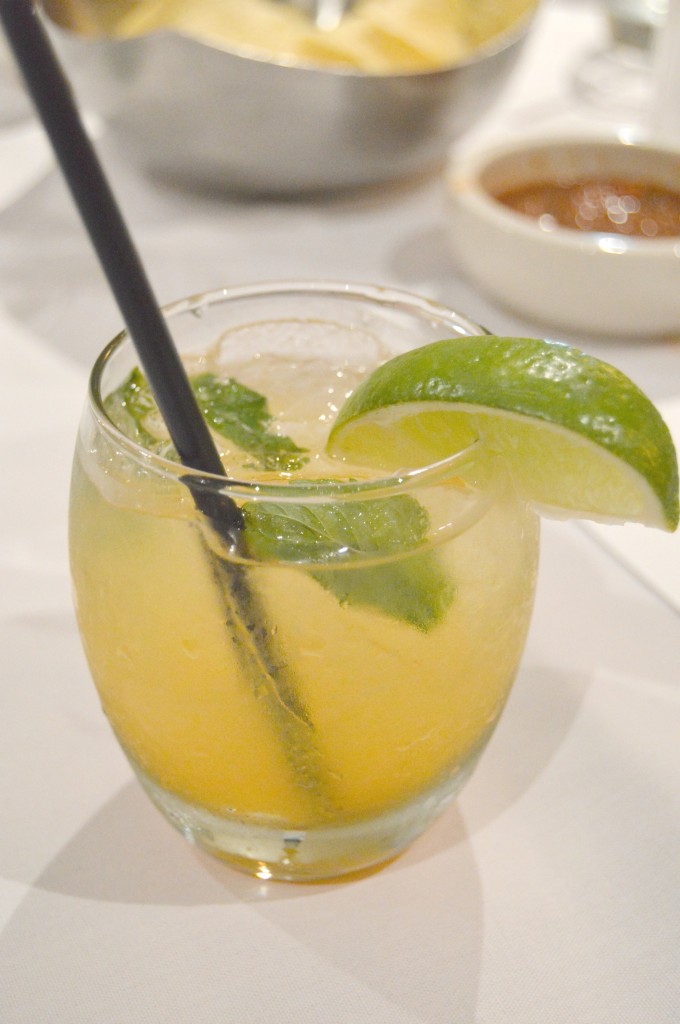 After our appetizer glasses and plates were cleared away, it was time for round #2.  I was a little nervous about the second drink after I saw the menu.  It was a Mango Tequila Mojito.  If I am being honest, mojitos are generally not my thing.  I have this problem where I do not like mint.   At all.  But, in the spirit of the dinner, I decided that I was going to step outside of my box and give it a try.  I am so glad that I did.  I did not taste the mint at all and instead was incredibly pleased by the combination of the sweet mango and the tequila.  Mango margaritas are one of my favorite drinks, after all 😉  This was easily one of my favorite parts of the night, and just goes to show that trying new things can majorly pay off!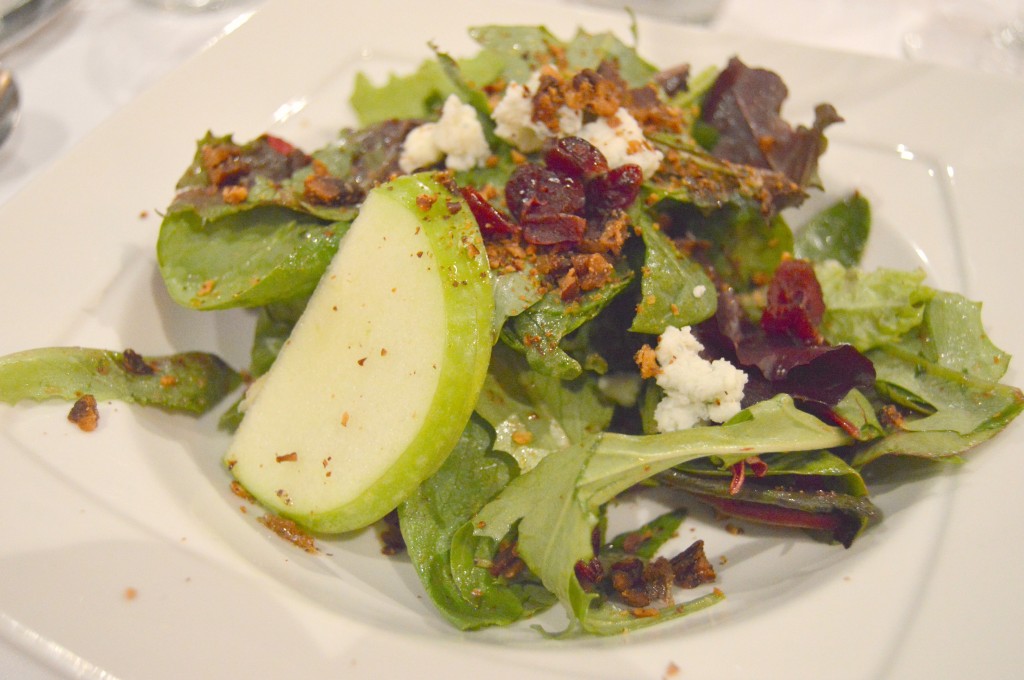 The mango tequila mojito was paired with a wonderfully sweet and savory cranberry pecan salad.  I loved how fancy this salad tasted.  It contained toasted pecans, dried cranberries, Granny Smith apple slices, bleu cheese, and a wonderfully sweet (but not too sweet) raspberry vinaigrette.  Again, another surprise for me.  I had no idea that I actually liked bleu cheese.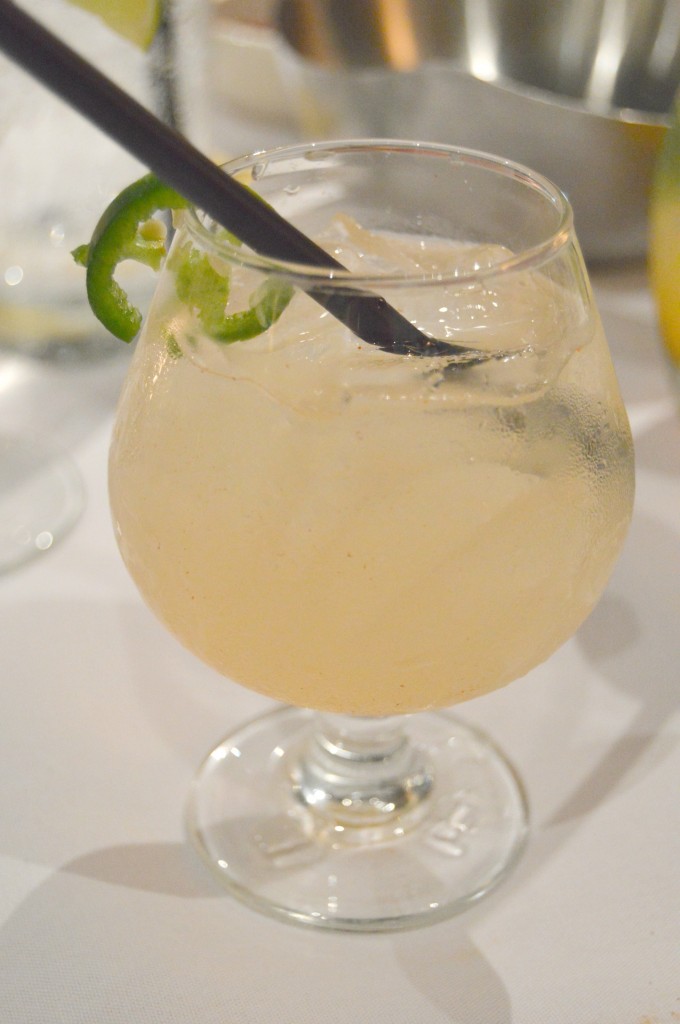 Ahh, drink #3.  This one was definitely my favorite, but that did not surprise me in the least bit because I am a margarita kind of girl.  This particular margarita was a Tengo Calor (which, by the way, I just Googled and it means "I'm Hot") Margarita.  Don't worry, while this does contain cayenne pepper, I really did not think it was that hot.  I do like some spice, though!  In all honestly, the majority of the heat that I got from this was actually from smelling the jalapeno slice each time that I went to take a drink 😉  Otherwise, I thought it contained the perfect balance of heat, sweetness, and tequila.  Again, a major win in my book.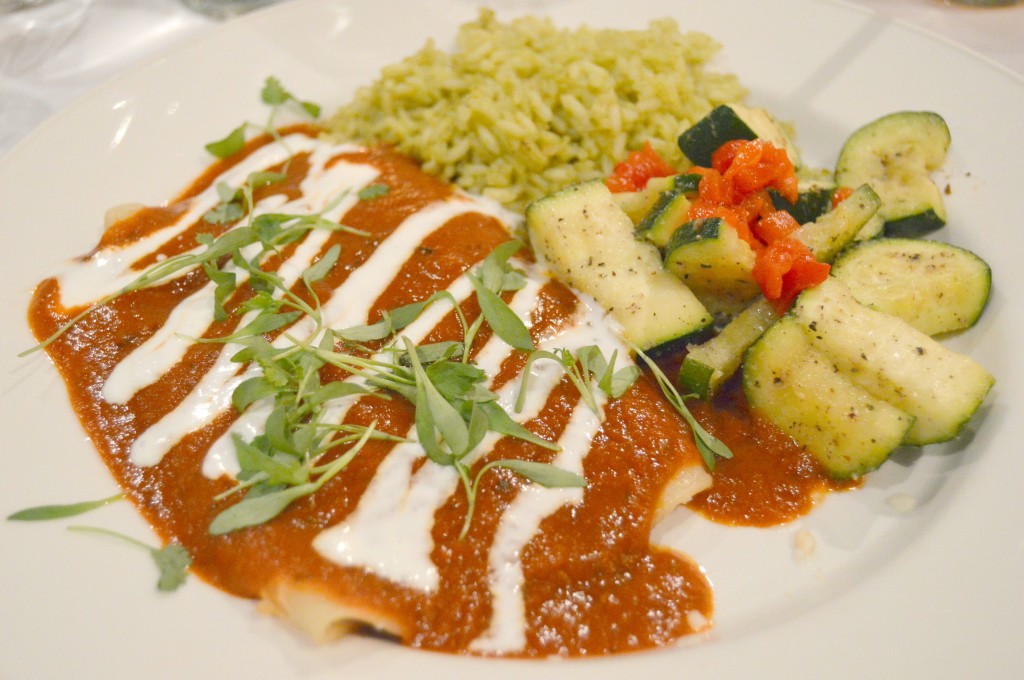 My favorite drink was paired alongside my favorite part of the meal.  I have had enchiladas from Cantina Laredo before, so I was extremely excited when they let me know that the vegetarian option would be a choice of two different enchiladas.  I selected the queso fresco enchiladas with a spicy guajilla sauce and drizzled sour cream.  They were paired with sauteed zucchini, red peppers, and a delicious cilantro lime rice.
Erin ordered the other vegetarian option (not pictured) which included portobello enchiladas with goat cheese, zucchini with red peppers, and Mexican rice.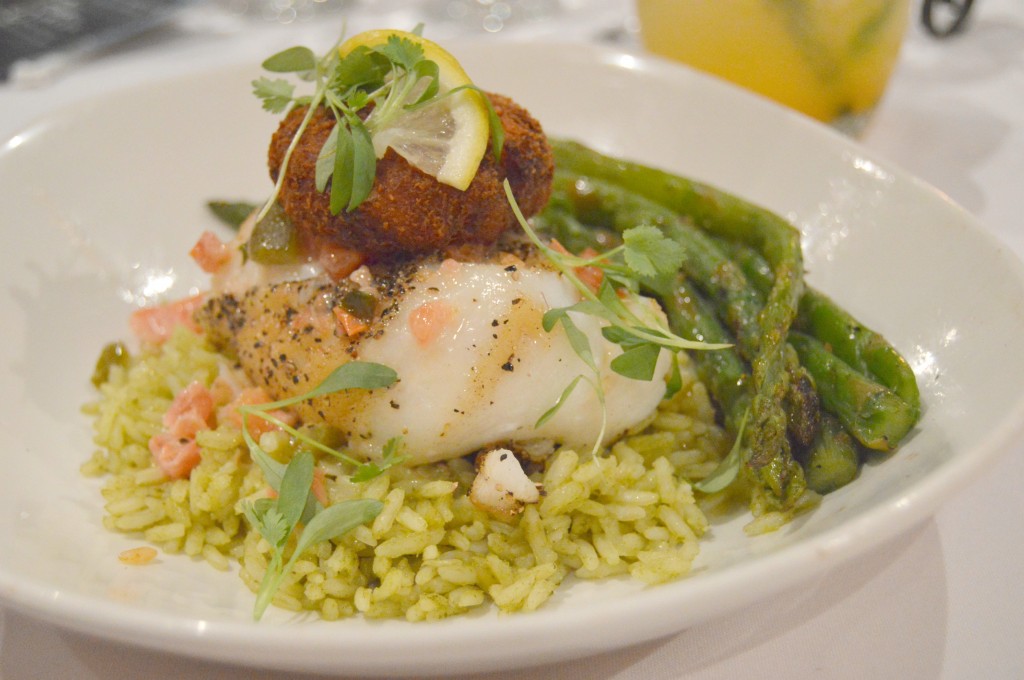 Aside from the vegetarian options, Cantina Laredo also provided two non-vegetarian options.  The first entree option was a sea bass Oscar with jalapeno beurre blanc.  It was topped with a crab cake and served with potatoes confit, asparagus, and cilantro lime rice.  All of the women who ordered this really seemed to enjoy it. I must admit, I was slightly jealous that they were eating asparagus and I was not 😉
The other non-vegetarian option (not picture) was lamb chops with pistachio pipian that was served alongside matchstick vegetables.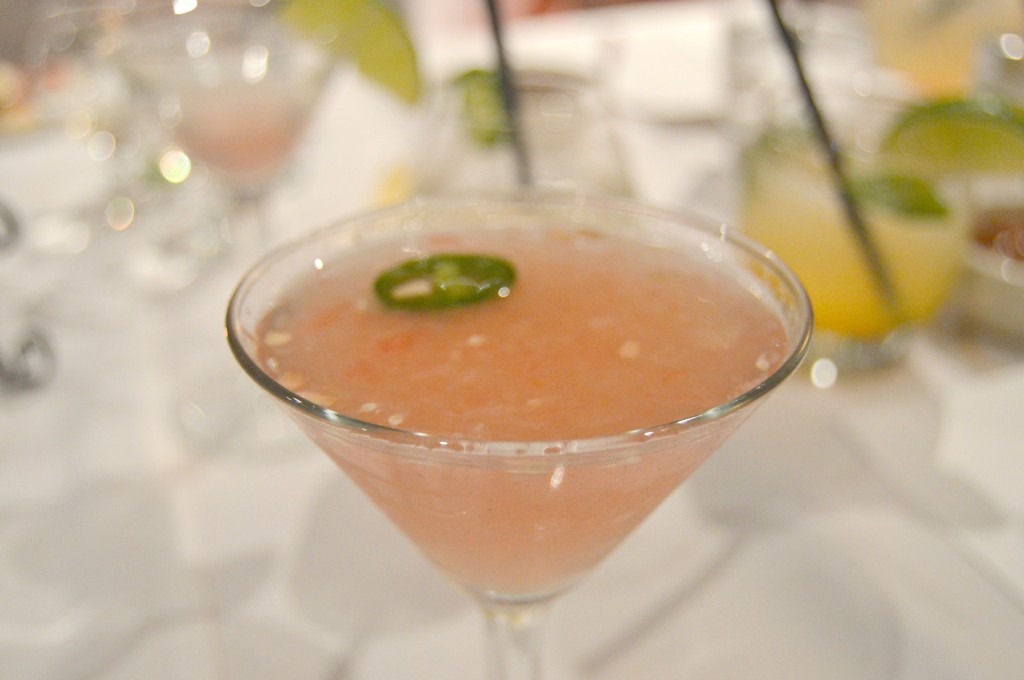 And finally, despite us already being quite stuffed from the chips and salsa, appetizer, salad, and entree, the final course arrived.  You cannot end a meal without dessert, right?  Drink #4 was appropriately called a Hot Summer Never Ending.  This drink combined watermelon, cucumbers, lime juice, triple sec, and (of course), jalapeno.  It was the perfect way to cap out the night of drinks and was delicious on our pre-Summer night (though, the 90 degree weather that day made it feel like Summer!).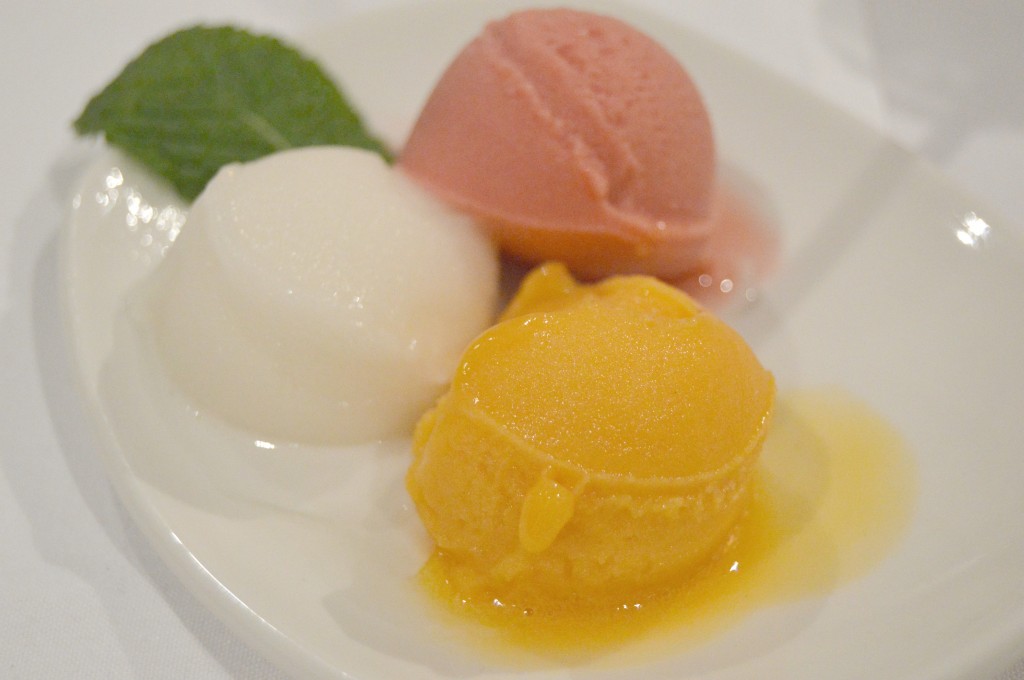 And if you are a little worried about the idea of a "hot" drink, you will be happy to hear that the dessert accompanying it was a trio of fresh raspberry, lemon, and mango sorbet.  While I enjoyed all three, the mango was definitely my favorite.  There seems to be a trend here with this mango thing…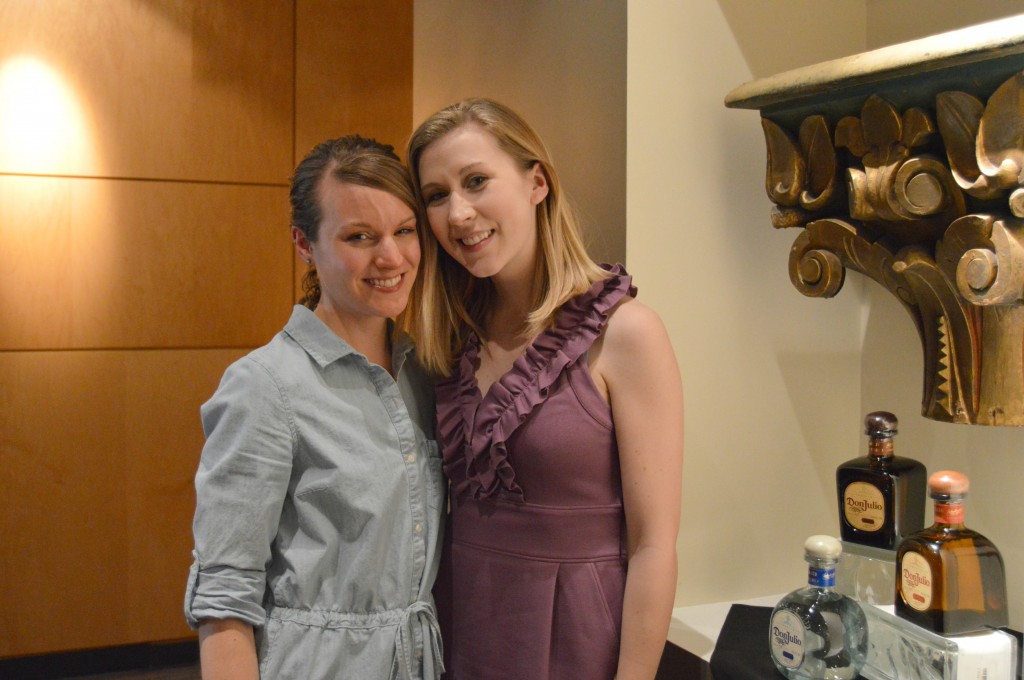 Not only was the tequila dinner full of delicious drinks and food, but it was also a great time to hang out with friends.  Tequila, Mexican food, and friends?  That is definitely my kind of night.
And guess what?  You do not have to feel left out because you have an opportunity to experience this exact tequila tasting dinner at Cantina Laredo- Omaha a month from today.  Here are the deets:
When:
Friday, June 13th
Cocktail Service: 7:00
Four-Course Dinner: 7:30
How Much:
$49.99 per person- which is a killer deal considering you will be served chips and salsa, four full-sized drinks, and a four-course meal!
How:
Call Cantina Laredo- Omaha to make reservations (required) at 402-345-6000
*Vegetarian and gluten-free options are available, but please specify these dietary needs ahead of time.
Connect with Cantina Laredo-Omaha and Midtown Crossing here:
Cantina Laredo-Omaha's Twitter
Cantina Laredo-Omaha's Facebook
Midtown Crossing's Twitter
Midtown Crossing's Facebook
Now go grab your girlfriends, significant other, mom, dad, whoever and reserve your spot before they are all gone.  This will be the perfect kick-off to Summer!