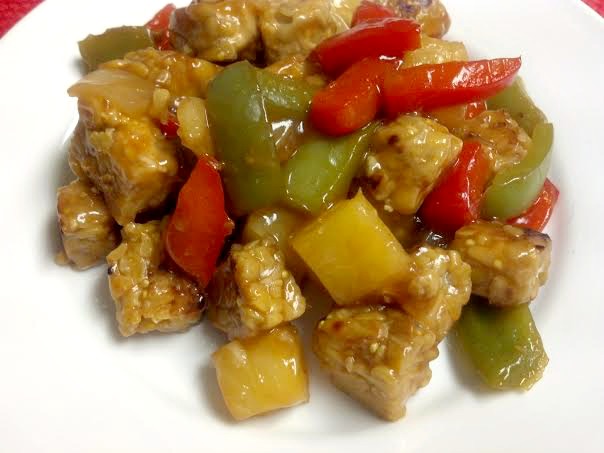 I love Chinese food just as much as the next person.  Unfortunately, my options for eating Chinese food at a restaurant or for picking up take-out after a long day of work are much smaller than they were when I ate meat.  Do not get me wrong.  Many Chinese restaurants offer vegetarian and vegan options.  However, those options are almost always strictly centered around veggies or they contain tofu.  I love my tofu.  But for some reason I do not love it in Chinese food.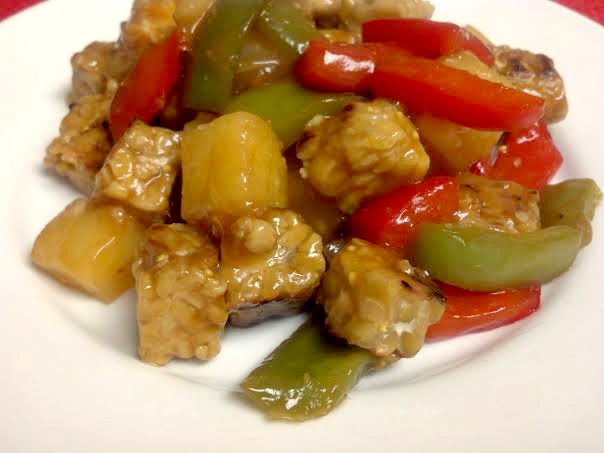 So what is a girl to do?  Why, make one of my favorite Chinese dishes with my favorite meat alternative: tempeh!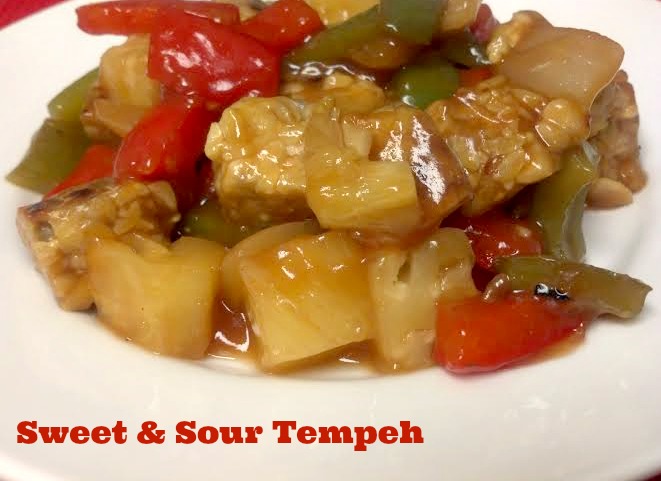 Sweet and Sour Tempeh
Serves 2
Ingredients
2 TB seasoned rice vinegar
2 TB Bragg's Liquid Aminos (or low-sodium soy sauce)
2 TB ketchup
1/2 tsp ground ginger
2 tsp brown sugar
8 oz can pineapple chunks in natural juices, drained with juices reserved
olive oil cooking spray
1 8 oz package tempeh, cubed
water, for cooking
1 red bell pepper, sliced
1 green bell pepper, sliced
1/4 yellow or white onion, sliced
1 TB cornstarch + 2-3 TB cold water, mixed well
cooked rice, optional
Directions
1. Combine vinegar, Aminos, ketchup, ginger, brown sugar, and the juices from the pineapple in a medium bowl.  Whisk until well combined.  Set aside.
2. Heat a large skillet over medium heat.  Once hot, spray with cooking spray and add tempeh.  Cook the tempeh for approximately 15 minutes- lightly browning each side for about 4 minutes.
3. While the tempeh is cooking, line another skillet with a thin layer of water.  Heat over medium-high heat until very hot.  Once hot, lower the heat to medium and add the peppers and onions.  Cook for approximately 6-8 minutes, or until softened.  Add additional water, as necessary.
4.  Once the pepper and onion mixture is cooked through, lower the heat to medium-low and add the sauce.  Stir in the cornstarch + water mixture.  Simmer for approximately 3 to 5 minutes, or until thickened to your liking.  Add additional corn starch, if necessary.
5. Add the tempeh and pineapple chunks to the pan.  Cook for an additional 3 to 5 minutes, or until cooked through.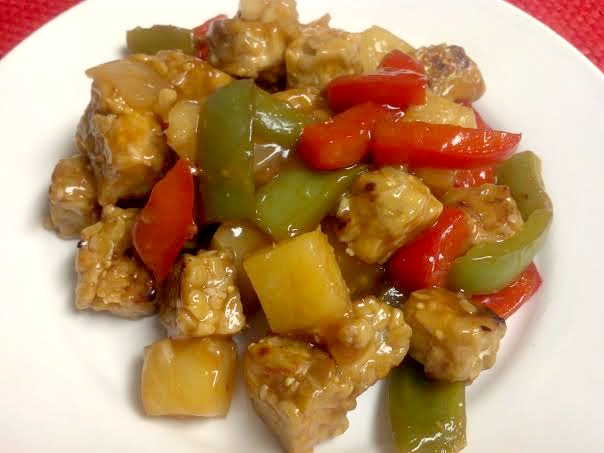 Serve your Sweet and Sour Tempeh by itself, as I did, or over rice.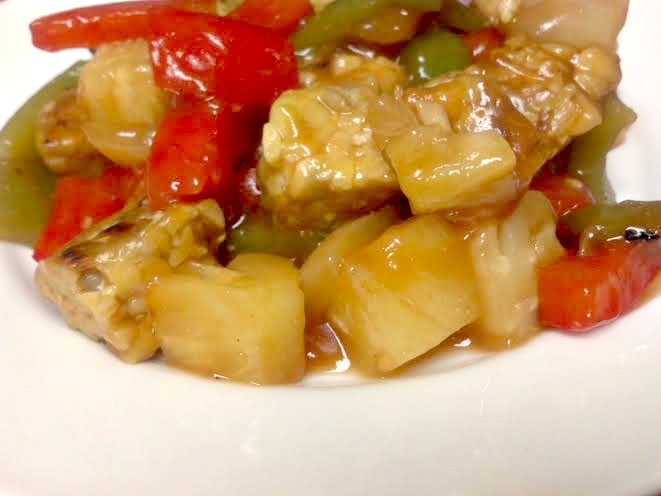 Growing up, I used to think that sweet and sour sauce was gross.  Silly me.  This stuff is so good.  A little bit sweet.  A little bit sour.  And a whole lot of deliciousness.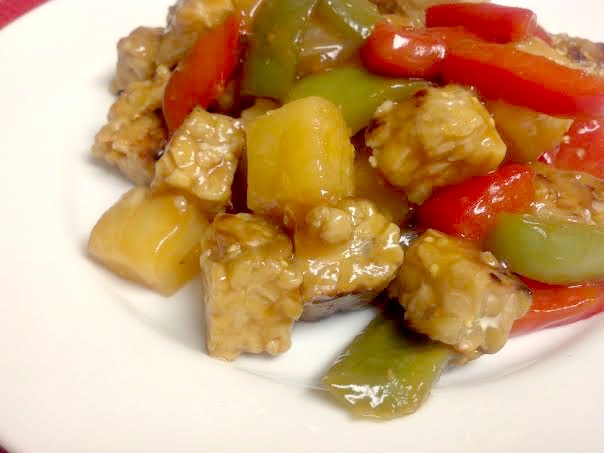 And if you think this recipe sounds good, make sure you check out my recipe for vegan Sweet and Sour Meatball Subs.  The sweetness (pun intended) of this sauce just keeps on giving and giving…