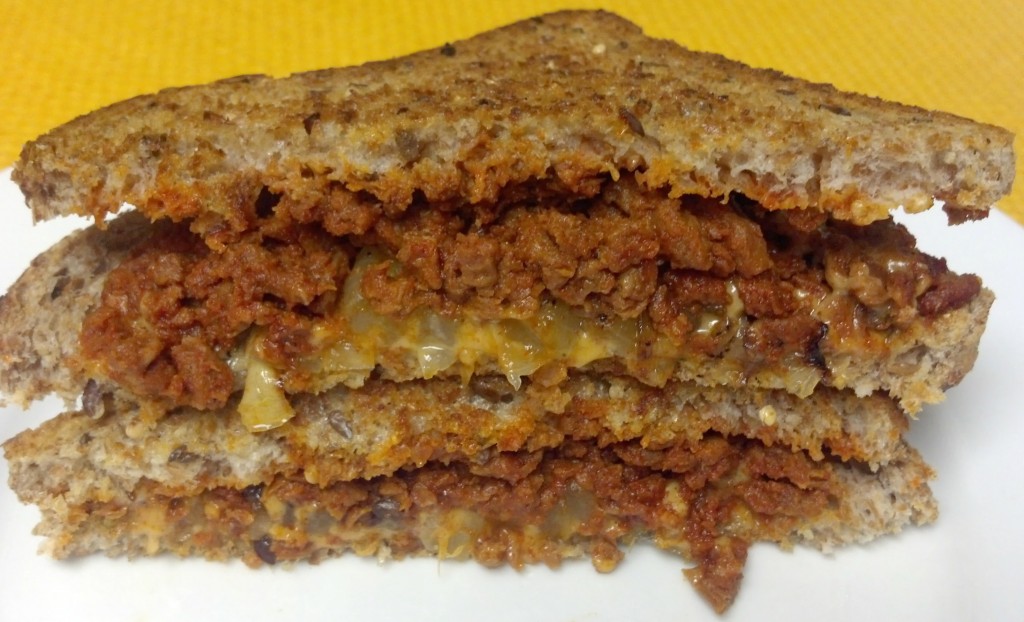 If you hadn't already seen the title of this post, I have a feeling that I may have worried some of you.  Sure looks like meat, doesn't it?  Well, have no fear.  I am still following my veggie ways…and still eating some darn good food!  I posted about this sandwich in a What I Ate Wednesday post a few weeks ago and I think I had a few of you intrigued.  Or at least I hope that I did.  I like to keep you all on your toes when it comes to me attempting to transform "meaty" foods into vegetarian meals ;).  And hopefully you think I am doing an a-okay job at it!
Back in the day when I was a meat eater, I tried chorizo (basically a spicy Mexican sausage) for the first time and loved it.  It tasted a lot better than ground beef or regular sausage, and the spicy kick that it gave off made it an instant hit with me.  After I stopped eating meat, I must admit that I was a bit sad that I wouldn't be eating chorizo anymore.  That is until I discovered soyrizo.  Soyrizo is a soy-based product that is basically the vegan version of chorizo.  It tastes nearly identical to the real thing, which makes my taste buds oh so happy.  And what better way to eat soyrizo than with melty, gooey vegan "cheese?"  This is a combination that was just meant to be.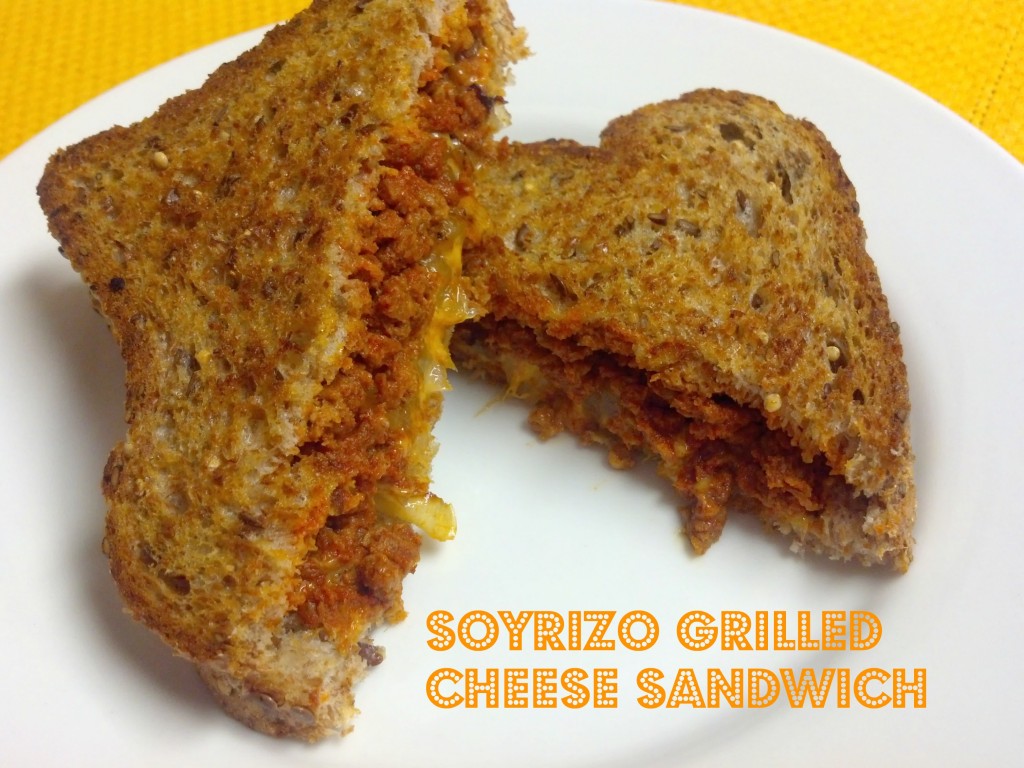 Servings: Makes 1 sandwich
Ingredients
1/4 small yellow onion, sliced
olive oil cooking spray
black pepper
fine sea salt
garlic powder
onion powder
1/4 of a 12 ounce package of soyrizo
2 pieces whole wheat or sprouted bread (I used the Ezekiel flax bread)
2 TB coconut oil
2 slices vegan cheddar "cheese" (I used Daiya brand)
Directions
1. Heat oven to 425 degrees F.  Line a small baking sheet with foil and spray it with cooking spray.
2. Place the sliced onions onto the baking sheet, spray them with cooking spray, and sprinkle them with pepper, salt, garlic powder, and onion powder.
3. Roast the onions for approximately 15 minutes (flipping halfway through), or until golden brown.
4. While the onions are roasting, heat the soyrizo in a small skillet over medium heat for approximately 3 minutes, or until warm.
5. Once the onions are roasted and the soyrizo is warmed, spread one side of each slice of bread with coconut oil.
6. Over medium heat, place one slice of bread (coconut oil side down) into a small skillet.  Top the bread with one slice of "cheese," the soyrizo, the roasted onions, and the second slice of "cheese."  Top it off with the second slice of bread (coconut oil side up).
7. Cook the sandwich over medium-low heat for approximately 5 to 7 minutes, or until the bottom slice of bread is golden brown.  I also place a lid over the pan during this process to help the "cheese" melt better.
8. Carefully flip the sandwich and repeat step #7.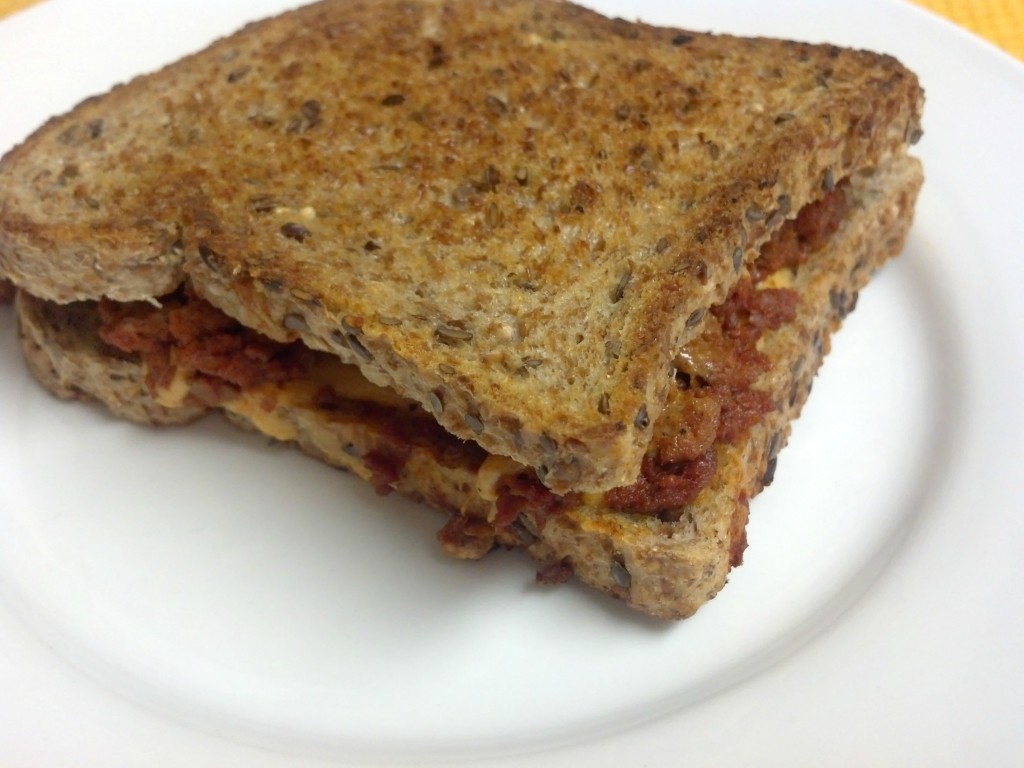 9. And, as always, cut your grilled cheese on a diagonal ;).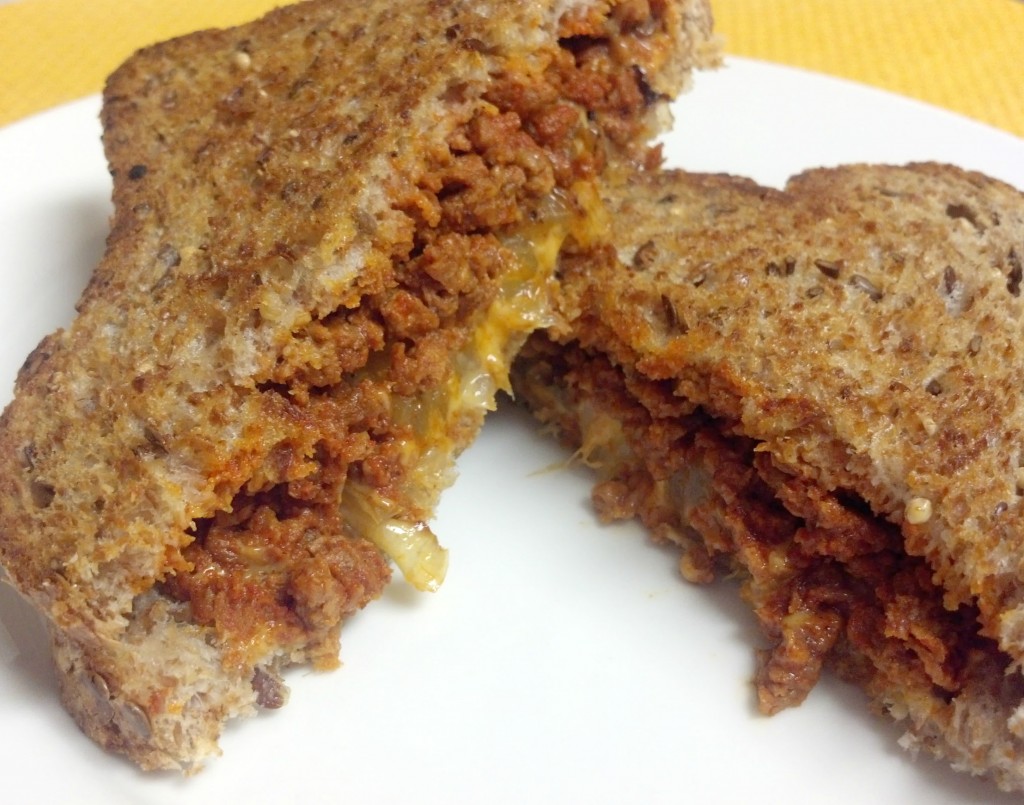 I am pretty certain that if I was served this sandwich at a restaurant, I would have to question whether or not I had accidentally been served meat.  It is that realistic and that good!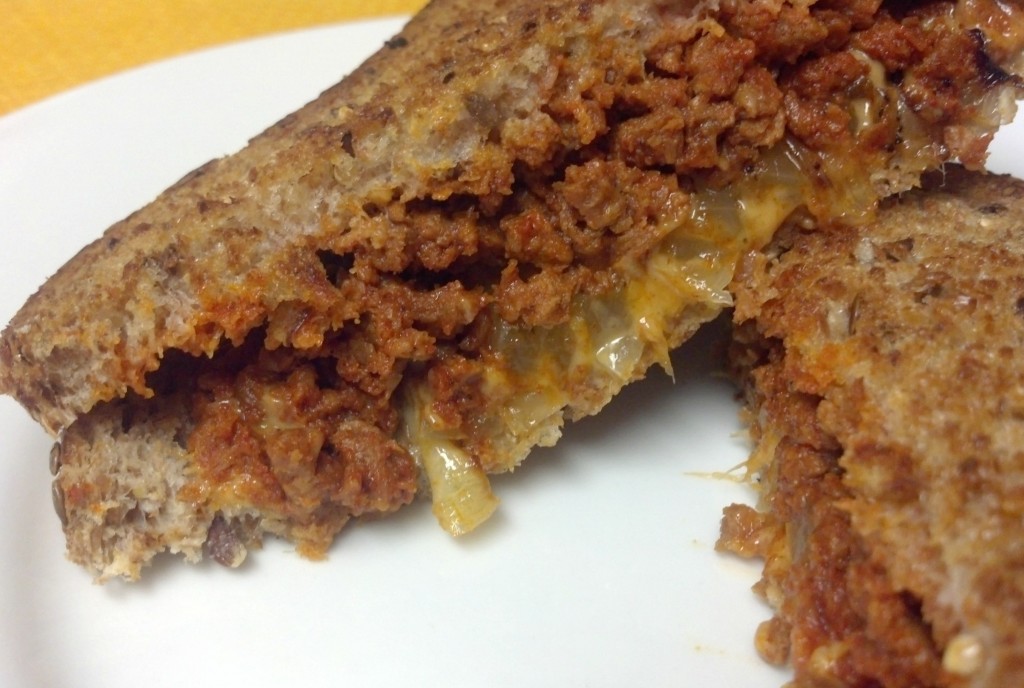 Anyone who says that vegan food can't be good obviously hasn't tried a sandwich like this.  I challenge all of you who are my meat-eating friends to give this baby a try!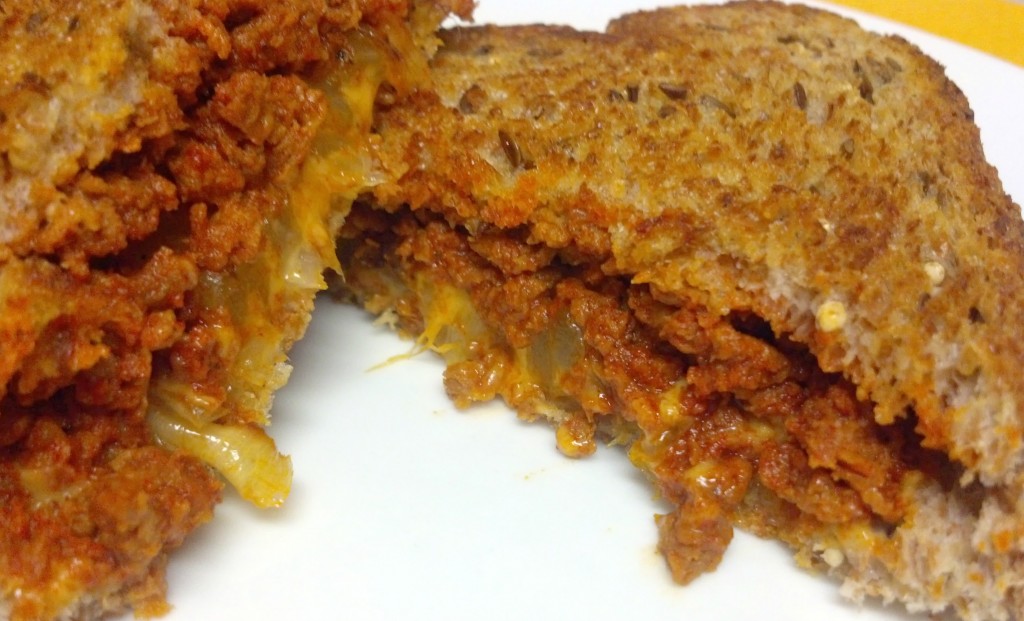 Hungry yet? 😉